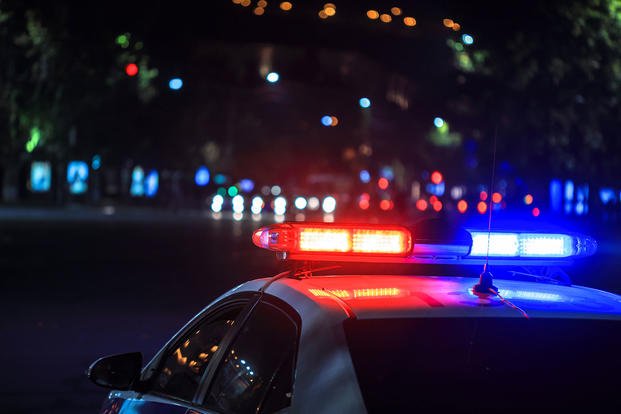 The chief of staff for Department of Defense Education Activity schools in the U.S. was arrested last week during a two-day human trafficking operation in Coweta County, Georgia, according to local authorities.
Stephen Hovanic, 64, of Sharpsburg, Georgia, was arrested Nov. 15 in a sting that netted 25 additional suspects on charges related to prostitution as well as drugs, weapons and warrants, according to the Coweta County Sheriff's Office and its Police to Citizen Portal website.
Hovanic was charged with pandering -- a crime that involves inducing or compelling an individual to take part in prostitution. In Georgia, it is a misdemeanor charge that includes soliciting the services of a prostitute, either for oneself or an arrangement for a third party.
Read Next: A Thanksgiving Aboard the USS Forrest Sherman[1]
"Pandering is not a victimless crime, as the demand for prostitution drives the sex-trafficking market," Sheriff's Office spokesman Sgt. Toby Nix told the Newnan Times-Herald, a local newspaper, on Nov. 17[2].
Hovanic has served as chief of staff for DoDEA Americas since October 2010, according to his Defense Department biography, which has since been removed from the DoDEA website. An educator for more than 40 years, he worked as a high school vocational teacher, coach and school administrator in the Virginia public school system before joining DoDEA as assistant principal of Quantico High School in 1996.
He was named principal of Dahlgren School, also in Virginia, in 2001 and served there until 2008, when he transferred to be an instructional systems specialist at the department's area service center in Peachtree City, Georgia.
William Griffin, spokesman for DoDEA, said that Hovanic is currently on leave from his position.
"We are aware of an alleged incident involving a DoDEA employee in the Americas Region. As there are ongoing legal processes, it would be inappropriate to comment further at this time. Any questions regarding the incident should be directed to the local law enforcement agency involved," Griffin said in an email to Military.com.
The sting operation was a coordinated effort between the Coweta County Sheriff's Office; the Haralson County Sheriff's Office; the Department of Homeland Security; and the nonprofit Frontline Response Out of Darkness team, an organization focused on rescuing and assisting victims of sex trafficking and homelessness.
According to the Haralson County Sheriff's Office, six victims were rescued during the sting.
Three of those who were charged are under investigation for human trafficking and drug charges. The announcement, made on the social media platform X[3], did not say which of the 26 faced those additional charges.
Of the group, 12 were arrested for prostitution, 10 for pandering, and four for pimping. Pandering in Georgia is punishable by up to one year in jail and a $1,000 fine.
-- Patricia Kime can be reached at This email address is being protected from spambots. You need JavaScript enabled to view it.[4].
Related: Norfolk Navy Officer Arrested on Child Pornography Charges in NCIS Sting[5]
© Copyright 2023 Military.com. All rights reserved. This article may not be republished, rebroadcast, rewritten or otherwise distributed without written permission. To reprint or license this article or any content from Military.com, please submit your request here[6].
Read more https://www.military.com/daily-news/2023/11/22/dodea-americas-chief-of-staff-arrested-human-trafficking-sting-operation-georgia.html